Whoever you are, wherever you are, you are welcome here.






Growing up in an urban environment provides both amazing opportunities and challenges for teens and pre-teens. The Youth Ministry at FirstSF is committed to partnering with families to develop youth (in 6th through 12th grades) that are fully committed to the cause of Christ, both now and into their adult years.

The ministry is led by a team of leaders with a passion to see youth take their faith seriously and seek to follow Jesus now and into the future. The ministry is made stronger through the contributions of adult leaders who lead Sunday Morning Classes, monthly Fun Fridays, Discipleship Groups, retreats and camp.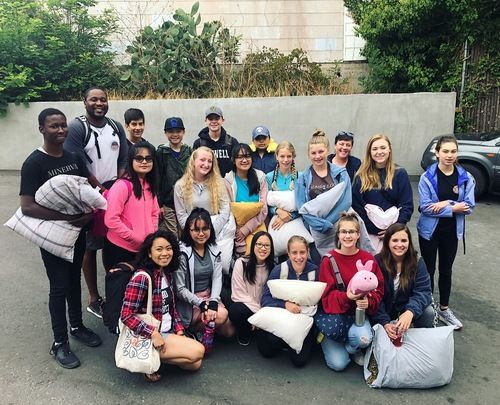 FirstYOUTH meets on the 4th floor every Sunday.
Any student from 6th grade to 12th grade
is welcome here.

The time first starts off as a hang out where you can often times find our students playing pool, ping pong, or hanging out around the fireplace on couches, catching up while eating cereal. Then we have announcements, a lesson and break discussion groups:
boys, jr. high girls & high school girls.

We hope to see you soon!

so we cared for you. Because we loved you so much, we were delighted to share with you

not only the gospel of God but our lives as well.

1 Thessalonians 2:8
There are three groups, one for boys and two for girls, which meet twice a month for study, prayer and fellowship. Relevant topics are discussed and it is a time for students to share and grow in their faith.
For information about how to get plugged in,
please contact
Bryan Brown
for the boys or
Mattie Carranza
for the Sr. High and Jr. High girls.
On the first Friday of each month students are encouraged to invite friends to gather for fun, fellowship, devotions, and food! Fun Fridays are geared toward building relationships among the youth and their friends who do not regularly attend our church. Fun games, challenges, and short Scripture study serve as the foundation for these evenings. These times also serve as leadership development opportunities as youth take initiative to plan and teach games/challenges and lead devotions. Fun Fridays are the first Friday of the month, from 6:30 - 9p.m. up. Location varies due to the event that is planned. For more information, email
Bryan Brown.
We'd love to hear from you. Fill out the form below to get started.